Quick Facts
The name "Fonda" was chosen as it was a deviation of the Latin word for "fountain." This made sense as it was near Sunken Grove, an area that was covered in water for most of the year.
Fonda was originally called Marvin, but it was so close to Manson that mail kept getting mixed up between the towns, so it changed its name in 1874.
James Dennis Kelly, the head coach for the United States track and field team at the 1956 Summer Olympics, was born in Fonda in 1893. The Americans won 15 gold medals under his instruction that year.
How Fonda Got Its Name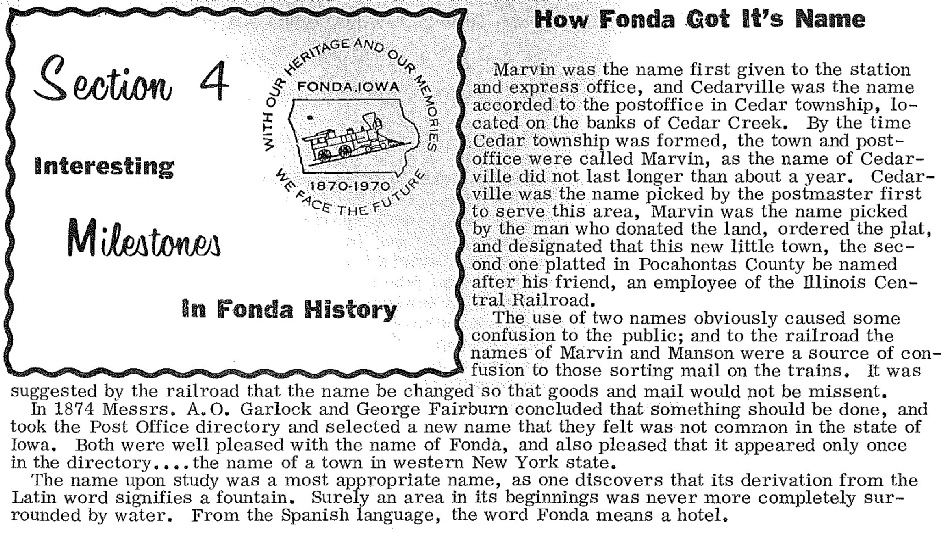 Marvin was the name first given to the station and express office, and Cedarville was the name accorded to the post office in Cedar township, located on the banks of Cedar Creek. By the time Cedar township was formed, the town and post office were called Marvin, as the name of Cedarville did not last longer than about a year. Cedarville was the name picked by the postmaster first to serve this area, Marvin was the name picked by the man who donated the land, ordered the plat, and designated that this new little town, the second one platted in Pocahontas County be named be named after his friend, an employee of the Illinois Central Railroad.
The use of two names obviously caused some confusion to the public; and to the railroad the names of Marvin and Manson were a source of confusion to those sorting mail on the trails. It was suggested by the railroad that the name be changed so that goods and mail would not be missent.
In 1874 Messengers A.O Garlock and George Fairburn concluded that something should be done, and took the post office directory and selected a new name that they felt was not common in the state of Iowa. Both were well pleased with the name of Fonda, and also pleased that it appeared only once in the directory… the name of a town in western New York state.
The name upon study was a most appropriate name, as one discovers that its derivation from the Latin word signifies a fountain. Surely an area in its beginnings was never more completely surrounded by water. From the Spanish language, the word Fonda means a hotel.
Read More